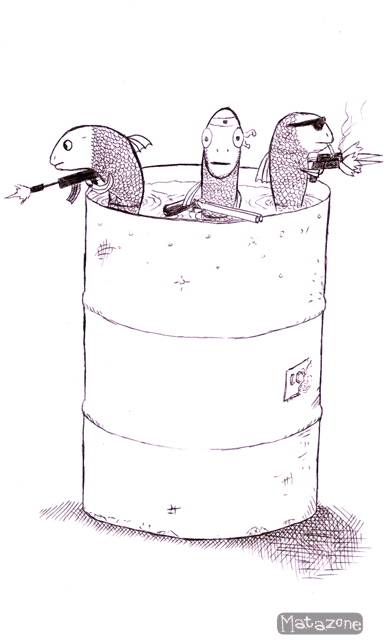 It was interesting to read the Eclipse Aerospace
Customer Communique"
last week (I guess they figure the previous owners gave the term "press releases" a bad name).
Over the past months, there has been much speculation on when (or if) production of new aircraft will resume. The new owners are cautious about that, saying it is months to years away. I don't have any idea, other than regrettably endorsing their cautious note, as it appears the market will be slow for months to come.
So, a quesion might arise, did the new owners get a good deal when they purchased the assets?
Well, that depends, on what they paid, and what they got.
The figure of $40M is used as lot, but the not so fine print is
$20M in cash, plus $20M in notes
.
The notes are "promises", so the real skin is $20M. (Earlier buzz had it that Al Mann put up $10M, M&M put up $5M, and somehow another $5M showed up in an unmarked bag- or something like that).
So, what came with the deal?
How about 400K square feet of floorspace?
350,000 sq ft
at the main airport, and another
41,000 sq ft
at a nearby satellite airport. (At $10M, that's 25 $/sq ft).
And, then there's the airplanes on the assembly line, some nearly finished, some less nearly- maybe 25-30 total. Maybe enough parts on hand to finish some of them? Or a good prelude to low-rate spares/completion delivery from suppliers. (At $10M, and say 25 planes in semi-completion, that's $400K each)
Plus another 28 or so Dayjet airplanes- earlier configurations in some cases, but still, flying assets. (At $10M, that's $357K per airplane).
And how about the flight test airplanes? I don't know if these were refurbished and delivered, or used for customer training, or demonstrators- I think there were around half a dozen of them. (Let's say five flight test airplanes- for $10M that comes out to $2M each- early models yes, but also configured for testing, a blg plus for future development exercises.
Speaking of flying airplanes, and future development exercises- how about the
EA400
(aka "Conjet"). How many people did it take, and how long? Beats me. But figuring the engineering, wind tunnel, and construction time; plus avionics, engines, structure, etc, I'd say 50 people x 2 years x $100K/man-year = $10M for the design, construction, and preliminary testing. (At Least- probably double that cost in real life).
How about a captive market for service, since most of parts are not PMA'd, and will have to go through the TC holder? The best-case upgrade (already equipped with new boots and AvioNG) is 150-ish $K, probably on the long side of double that for older configurations- say they can clear $50K per mod, with 200 airplanes (260 less Dayjet, test fleet, reluctant participants), that's $10M. (Or more, with other maintenance).
Any one of these seems to be a good case for buying the assets, especially if a mutually beneficial deal was pre-arranged with Mr. Mann, for later action.
And, I've left out the TC for the EA-500.
In 2002, Eclipse said
it
"will need a total of 'somewhere north of $300 million' to certify the Eclipse 500 and establish production..."
. So, figure real world, and 2010 numbers, will combine to double that to $600M, and a third of it goes to design, test and certification; that's $200M. Buying this for $10M is an outrageous bargain, IMHO. (How realistic of "stab" is that? Seems like Cirrus was looking at an
additional
$120M past the flying prototype stage for the
Vision certification program
).
Now throw in office furniture, computers, copiers.
And, FSW technology; semi-adaptable to other uses, if the layup molds are changed, such as subassmbly work for Detroit, or other airframer OEM's.
I have to admit, I think the Eclipse Aerospace owners got a heck of a bargain.
So what's the key to success? Cash flow. And what generates cash flow? Service work. Which is exactly what I expect them to concentrate on.
Restart manufacturing? I think that is a ways off- if it ever happens. Personally, I think it will. But I'm not sure when (12-30 months, I'd guess).
Or by whom. Or where.
My bet would be a different owner, but still in Albuquerque. We no doubt remember talk of the Russians or Chinese having an interest. I'm still betting on it staying in NM, regardless of where the owner is from. I think the current owners are capable, but they are probably adverse to the hefty investment -and high risk- involved with restarting production. (I suspect Al Mann is in it this time for the sort term, until the economy recovers enough for him to cash out of the airplane manufacturing game. Just a couple of years ago,
Cessna paid $26M for Columbia
- I like that airplane, but think the Eclipse "package" -factory floorspace, tooling, TC, aircraft and equipment inventory- is enormously more valuable).
I think there is a very good arguement to be made for buying Eclipse assets (in fact, I just recited it above). Once the GA/Bizjet market recovers, I should think a number of OEM's and investment companies would be interested in all or part of their physical assets and/or "Intellectual Property". (For example, I expected Alan Klapmeier to have an interest in acquiring the EA-400 program, after he left Cirrus, and they kept the jet program). The background of the current ownership seems more atuned to merchandising, than manufacturing. And the old adage
"How do you make a small fortune in aviation? Start out with a large fortune"
, would seem to substantiate their priorities.
The good news, for those longing for a restart of the production line: I think the airplane really is very good, especially with the new AvioNG 1.5 configuration. Good enough, that I can't imagine it not going back into production. But that will probably take hundreads of millions of dollars- a long way from the investiment the current owners ponied up. In the mean time, I expect Eclipse Aerospace to have good cash flow with service (it sounds like they are treating the aircraft owners right)- and will probably experience an even better ROI if they can sell the company once the market is strong enough to justify a restart of production.
Still, it will be intriguing to watch. Low rate production might not be that expensive to restart. I believe there was a number going around of 7,000 hours to build an Eclipse. With a shop rate of maybe $60 per hour with overhead and benefits, that would seem doable, and falls right in line with the blog's earlier guestimates of labor cost being about 1/4 of the cost of production. (Engines being another 1/4 also seems about right, airframe components being about 1/4, and avionics and systems being the remaining 1/4; all more or less. Since the suppliers are already tooled up, resuming delivery, even at a low rate, might not be too difficult). I expect the Eclipse show to be interesting for some time to come.
And it is great news that the aircraft owners have factory support once again!